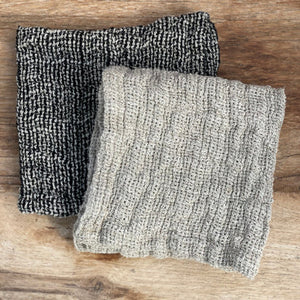 Mesh Linen Wash Cloth in Natural | Wabi Sabi Bathroom Accessories
Rustic, richly textured cloth, made from 100% pure linen, woven in a thick weave.  Very soft, yet visually rustic, this beautiful linen wash cloth will provide a natural luxury to your bathing experience.  Linen is a great choice, not only for it's decorative qualities, but also because it's anti-allergenic, durable and highly breathable.
The more you'll use and wash this cloth, the more character and softness this linen will develop.
Material
100% Stonewashed Linen
Dimensions
35 x 35 cm
Colour
Natural

Care

Machine washable on a gentle wash cycle, preferably lukewarm water.  Straighten and hang to dry.  The fabric will become softer with every wash.

Magnolia Lane bathroom accessories, Australia wide delivery