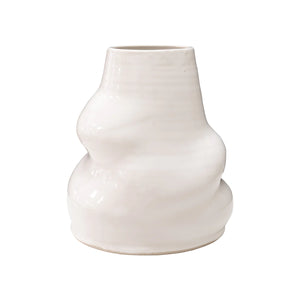 Kamali Vase Limited Edition by Uniqwa Collections | Coastal Luxe Interiors
Our designs at Uniqwa are always crafted with soulful intention and purpose in mind.
Perfectly imperfect, we embrace the beauty of nature; with her powerful presence on earth, she has inspired the beautiful shape of our Kamali Vase.
A timeless addition to any interior space, the Kamali Vase is a distinctive ceramic sculpture designed in-house by Andrea van Heerden and brought to life by Porsche Victoria, our Maker.
The Kamali Vases are statement pieces that pair beautifully with an arrangement of fresh or dried flowers or as sculptures in their own right.
Designed as a set of three, they can also work as a pair or single statement piece.
With a focus on individuality, shape, and form, each hand-thrown vase is made from White Raku clay, which undertakes a unique process to create organic formations and folds.
After being thrown and spun into perfect circular vases, Porsche applies pressure to the sides in strategic places to initiate the organic shaping. Then, she artfully taps the vases to encourage the weight of the wet clay to fold in strategic places, which enhances the organic features.
From there, the vessel is immersed in a white stoneware slip and high-fired with a custom-made double-layered winter white glaze finish, all of which contribute to its elegant, sophisticated feel.
Materials

Handcrafted in Queensland, Australia

Each piece is artfully curated from start to finish resulting in our unique Kamali Vases. Each vase is distinctive and unique; no two are ever the same.
Makers' marks and slight differences are not seen as faults but rather embraced as the imperfect finish that organic handcrafted pieces embody.
These handmade ceramic vessels will have variations in size and slight variations in colour. Made to order vase
Dimensions
DIA 16cm H 20cm approximately
Full product information and disclaimer can be viewed here - click here
This is a special order item only - please review the terms and conditions
here
Please request current availability and a delivery quote to your area (eta's are estimate only and changing daily so may have changed since added here) -
Email us
Please allow up to 12 business days to dispatch for in stock items from time of ordering.
Magnolia Lane is a proud supplier of Uniqwa Furniture Australia wide.  Enquire about any piece from their gorgeous range of unique furniture.