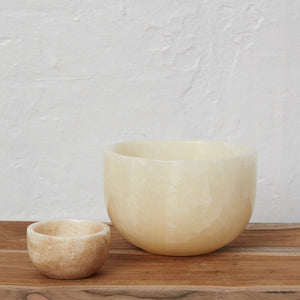 Made from stunning onyx stone, each of our bowls is uniquely coloured and will make a perfect centrepiece. 
Handmade in Java, Indonesia.
Dimensions: approximately DIA14 x H9cm (being stone dimensions may vary slightly)
Sold as a single bowl

Being a natural stone, each one will have it's own character and tone.  Therefore, they will differ to image.

Onyx Care

Onyx is an absorbent + pourous material, it is important to take good care of your onyx homewares. Harsh chemicals will sink into the stone and cause it to change colour. 
for cleaning - use a soft cloth with soapy water, do not use abrasive cleaners, steel wool, lemon juice - make sure it dries thoroughly 

for stain removal - use a non-abrasive cleaner such as dishwashing soap or a professional stone cleaner solution which can be purchased from hardware stores