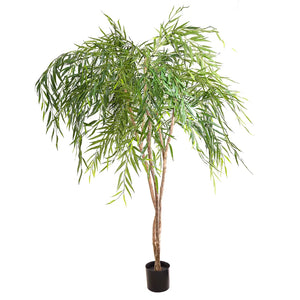 This gorgeous artificial tree is designed and shaped to look like the real thing, without all the maintenance.  Perfect for air bnb's, holiday house or that spot where the sun light doesn't get in.
The willow is a symbol of fertility and new life. In scripture, the willow is always associated with a river or brook, a perpetual source of nourishment and supply.
This item comes premade in a plastic pot, ready to be placed in a stylish pot of your choice.
(Not suitable for outdoor use).
MLx


Colour: Green

Dimensions: L170 | W130 | H210 cm
Container: Plastic
@ 10kgs
Please request a delivery quote for this item prior to ordering or you can place an order and we will provide a quote after.